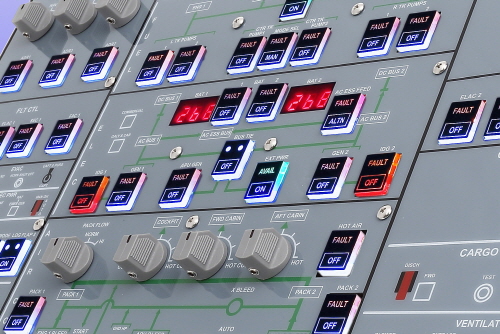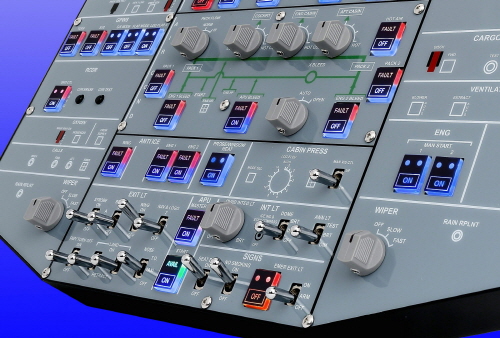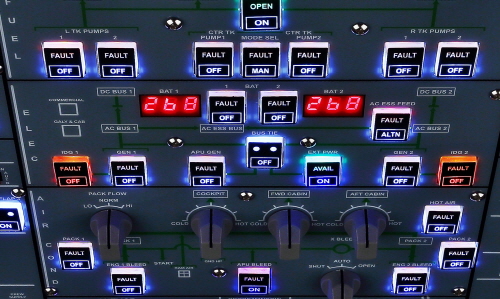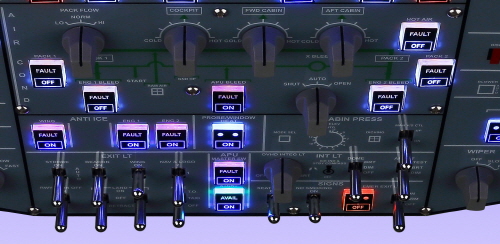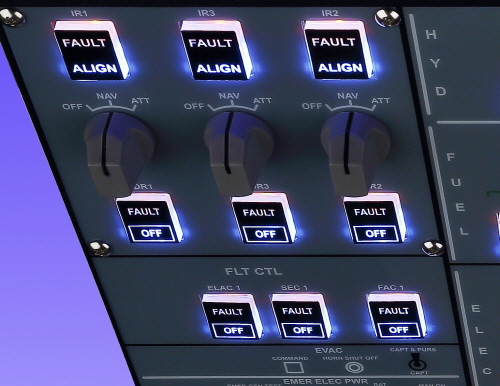 The V320 Overhead fully implements all function of the forward overhead panel of A320 in Aerosoft Airbus X Extended.
The V320 Overhead features A320 modern jet-liner's overhead panel for flight simulation software, Microsoft's Flight Simulator X and PREPAR3D. The V320 Overhead's hardware is made of ADIRS control, Flight control, Ground Proximity Warning System, Hydraulic Control & Fuel , Electrical control, Air Conditioning & Pneumatic controls, Anti Ice control, Window Heat control, Lighting & APU Control, Engine start.
Whereas, implemented functions are limited by aircraft type to be used.
A320 in Aerosoft Airbus X Extended for Microsoft's Flight Simulator X is recommended, as many functions as are presented in real units.
Engine start will be implemented in next Aerosoft Airbus X Extended update.
Features:
* About 70% scale
of a real forward overhead
.
* Full functional inputs:
14
toggle switches, 11 Rotary switches
* All switchable 56
annunciator
LEDs.
* 7-Segment display for BAT indicator.
* USB 2.0 compliant connection for control interface
* All buttons and dual rotary knobs are close to real overhead.
* End cap set: Plastic / Black, Red and White color
* It is fully compatible
with
A320 in
Aerosoft
Airbus X Extended for
Microsoft Flight Simulator X
, FSX STEAM version
and Prepar3d.
* It is compatible with Microsoft Windows XP, Vista,
Windows 7, 8 and 10.
* It supports VESA mounting holes (100mmx100mm) on the back of panel.
Width: 41.5cm / 16.3inch
Height: 4.5cm / 1.8inch
Length: 35.5cm / 14inch
* Weight : 3KG (W.O/Stand) 4KG(W/Stand)